How Do I Become a Member?
There is a $200 membership fee which covers one year of participation in First Fridays Artswalk. Membership is half price for current members of Downtown Pittsfield, Inc.
Please make your membership fee payable to DPCA. Due dates will be assessed by Downtown Pittsfield, Inc. 33 Dunham Mall, Suite 101. Pittsfield, MA.
Please call Downtown Pittsfield, Inc./Artswalk Phone for more details: 413-443-6501
View our Membership Orientation Packet below for more information!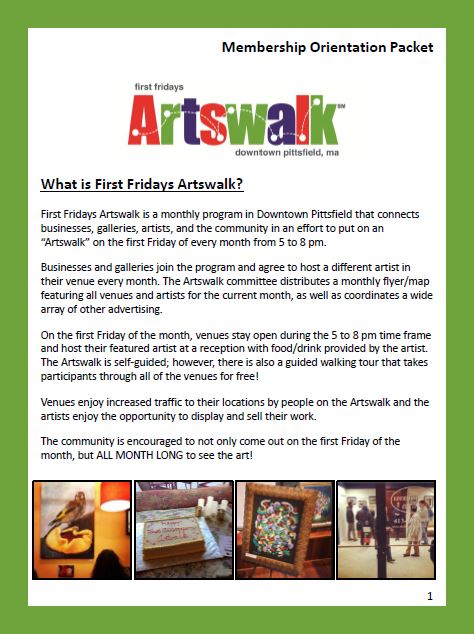 Is membership not the right fit for you? View our sponsorship package! There are in-kind and volunteer opportunities as well!
---
---
Calling all artists! If you are interested in showcasing your work during First Fridays Artswalk, you can email us to be added to our Artist Registry. We also recommend contacting venues directly if you are interested in showing your work there.
---

---
How else can you help? Follow us on our social media platforms!
Sign up to have our First Fridays Artswalk Preview sent straight to your inbox!
Follow Us on Instagram!